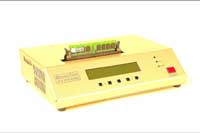 LS1000 DDR Leakage Tester
Most DDR2 memory assembling requires expensive quality control equipment for detecting the BGA soldering joints. MicroTest System, Inc. provides you a new tool
LS1000 using traditional method to detect continuity of the assembled modules. This LS1000 can detect the leakage currents on the signal paths. Thus it is able to detect shorts and opens due to bad soldering works. Plus it exercises DDR2 functions and checks all memory cells at a slower speed. Moreover, it can program and/or verify the SPD information. All these features are what memory assembling needs. Why pay so much for something that can be replaced by low cost solution? Contact us now.
Features:
Test both registered and unbuffered 240-pin DIMM modules
5-option buttons with functions indicated on display
1 heavy duty test start button
LED indicating testing status
USB-port interface with PC for configuration test options
Handler interface port
Yamaichi Burn-in socket with socket saver
Backlit LCD display
Auto Identifying Device under test
Configurable test devices
DC parametric testing
Functional and cell exercise testing
SPD program and verification
Adaptor Options:
200-pin DDR-II SODIMM adaptor
184-pin DDR-I DIMM adaptor
IC's testing adaptor (x4, x8, x 16)

Specifications:
Leakage measurement :

4 Current Ranges (+/-40uA, 400uA, 4mA, 40mA)
Resolutions (80nA, 800nA, 8uA, 40uA)
Accuracy +/- 5%

DUT Vcc range : 1.5-2.8 volts
VTT tracks Vcc by ½
SSTL 18 AND SSTL2 compliant
Clock Speed : 133 MHz
Data Speed : 266 MHz
CAS Latency : 3/4/5 Clocks
Trd & Trp : 3/4/5 Clocks
Write Latency : 2/3 Clocks
Internal Bank : 4/8 Banks
Burst Length : 4/8
ODT Selection : 75 Ohms/150 Ohms
OCD Adjustment : Auto Calibration
Posted CAS (AL) : 0/1/2/3/4 Clocks
Refresh Cycle : Auto and Self Refresh
Patterns:

Leakage test
Icc test
Adaptor Options
Open/Short Test (OST)
All-Cell-Function Test

SPD Option : Program/Read/Verify - 255 Bytes
Power Input : 110VAC / 240VAC switchable 50Hz/60Hz
Operating Temp : 25 - 115 Degrees F
Dimension : 16" x 11" x 4"
Weight : 6 pounds